Weddings are known as the most memorable day of your life, it can easily be the highlight of anybody's life if done correctly. No wonder you have been stressing about all the details as you want your wedding day to be remarkable and special. From the flowers to the cake, the wedding car hire to the food, there's so much to take care of. There are a lot of rituals and ceremonies held in an Indian wedding.
For this auspicious day, everything has to be perfect and best from the bride's makeup to the sacred seven vows. Doli (departure of the bride) is the first ceremony that takes place after marriage. This is when the bride leaves her parental home and goes to the groom's house. In most of the Indian weddings, people prefer a wedding car for the Doli purpose to bring the bride to the groom's place. This is the time when the groom wants to make his impression count and do all possible things to make this moment unforgettable for his wife.
As it is one of the most special days of your life, such memorable occasions require a very special wedding car service. Kesarinandan Travels with a fleet strength of over fifty vehicles of various brands and models offer a wide choice of options. You can select between hatchbacks, sedans to luxury based cars. The cars provided by us are appropriate for any wedding celebration.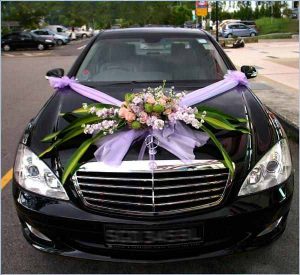 We offer a great rate and offer a variety of pick up and drop off options to make your auspicious ceremony easier. Go with confidence in your wedding car. Our objective at Kesarinandan Travels is to provide a variety of wedding car at the very best price that suits our customer's requirements. Depending on our customer's preference we deliver all types of car, starting from Indian based cars to high-end luxury cars and that too at an affordable rate.
We provide cars which are fully equipped with the latest amenities and safety features that ensure your wedding day trip will be safe, convenient and comfortable. We offer our customers competitive prices and up-to-date information, ensuring quality and efficiency at all times. At Kesarinandan Travels, we understand that booking a car for your wedding day can be a hassle if that is not organized well, that is why we provide a variety of car types to compare and choose from. We offer a luxurious range of wedding car hire in Pune which is driven by trained persons. So no matter how unusual your request may be, we make sure that we offer the best service to make your wedding day perfect.
Therefore, free your imagination and get the real delight of having a great, good-looking luxury car on the day of your wedding. It will end up being a flawless source of happiness for you on this memorable day.
We will ensure you that your Doli goes in the right way, on this important day of your life.
Thus booking a car from Kesarinandan Travels on your wedding day, you can be confident that it is the best, the most comfortable and presentable. Your next cheap car hire in Wedding is now just a few clicks away, at www.carhirepune.in